Unicorn 1.0 Public Testing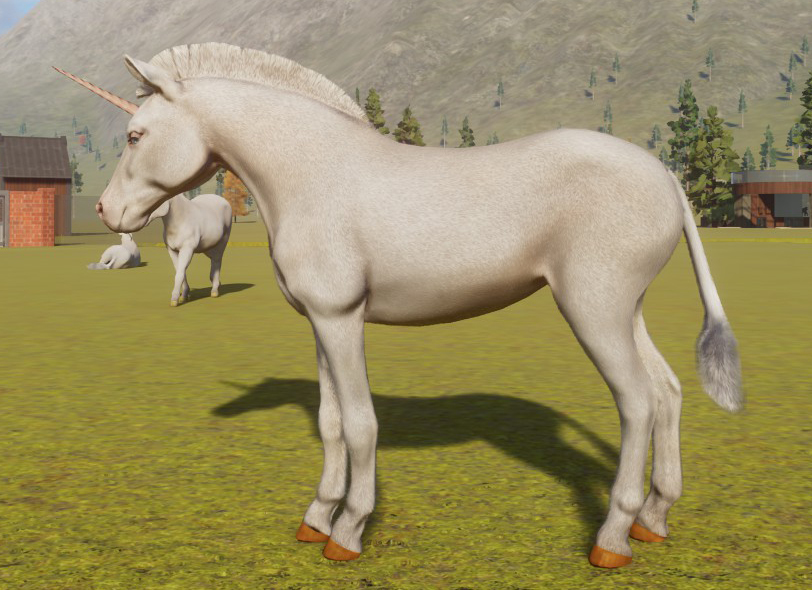 Unicorn 1.0 Public Testing
This painstakingly created mod includes 2 brand new full body meshes, detailed magical textures, and brings a whole unicorn family to your zoo! Will soon be updated with individual animal variants. Includes a proud stallion, svelte mare, and (soon) a tiny-horned baby.
Have you ever wanted a habitat with a mythical animal?
Well now you can!
A Scottish conservation crew named Blimey Winter discovered wild populations ay horses hae horns, if ye can gie close enaw! In th' interest ay preservin' them, unicorns ur available tae select zoos warld wide.
Did you know Unicorns look more like horses the farther away from them you get?
Your guests are going to want an extra close view of these lovelies!
This mod overwrites zebras. (Modding doesn't allow new animals– yet!)
Go to the following directory:
C:\Program Files (x86)\Steam\steamapps\common\Planet Zoo\win64\ovldata\Content0\Animals\Horses\Plains_Zebra
Backup your old zebra files.
Install the Unicorns here, and overwrite the original zebras from the above directory.
Done! Enjoy.
You can only have one file version for each animal. Each gender/baby is considered a separate animal.
Each version comes with two colors- One for the regular slot, one for the albino slot. (Not necessarily albino.)
So mix and match which version you want! More colors/patterns are on the way.