Caracal Remaster and New Variant (1.14) V1.1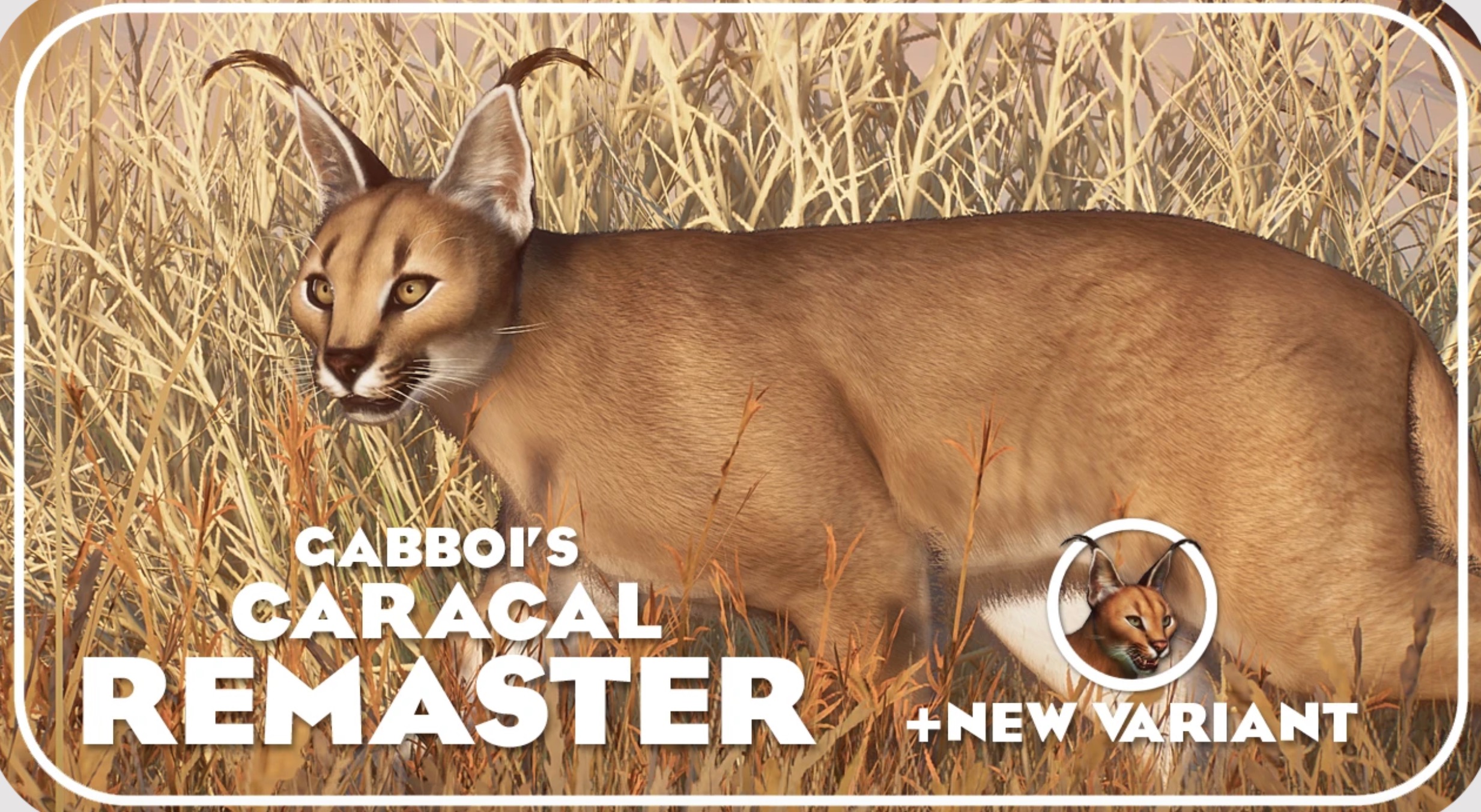 Caracal Remaster and New Variant (1.14) V1.1
This mod enhances the look of the Caracal, giving it a longer tail and tufts, a smaller head, and splitting the default textures into different variants to add more variation.
This mod includes improvements for Male, Female, and Juvenile Caracal, as well as adding a new variant to it, a dark orange coat with green eyes, pink nose, and more subtle markings which can also have its own variation going from a colorful orange to a dark brown or pale orange. The base texture is the usual tan-orange colors but with the addition of darker black markings, a black nose, and yellow eyes. You could think of this as dividing it into a more desertic Caracal, being the yellow-eyed base variant, and a more jungle/dense scrub environment green-eyed variant. Improvements include making longer tufts on males, dimorphism (female is thinner), adding the little spot on the cheek whiskers, elongating the tail, so it's more realistic, also gave it a black tip on the default variant, and overall eyes and cheekbones have more realistic proportions, reducing the head size to make it look less like a lynx and more like a caracal. This mod requires ACSE to work, it includes UI.
It's recommended to use the Planet Zoo Plus mod for a better experience.
Installation
To install this remaster, extract and place the folder in ovldata like a New Species mod, no file replacement is needed! Requires ACSE.
Variant Translations:
English: GiornoPizza
Spanish: Gabboi
Russian: Tanooki_Leaf
Swedish: Stalagmite
Portuguese: Masora157
French: Gnath
Simplified Chinese: 黑太子